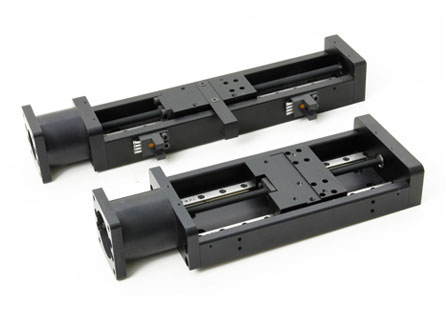 Tusk Directs TA series linear lead screw and ball screw tables provide many design benefits to your linear motion application and are ready for mounting right out of the box. These low profile positioning tables are designed to provide the smallest mounting footprint and lowest overall height possible. A selection of standard motor mounts and couplings are available at no additional charge and other motor mounts are available for a nominal fee. The TA series linear motion stages are offered in travel lengths ranging from 25 millimeters up to 410 millimeters. Our ball screw driven tables and lead screw driven stages smooth linear motion is accomplished by utilizing our recirculating slide guide technology providing an accurate, low profile and compact design. A double wide version (DW) is also offered and is designed with duel recirculating guides. These linear stages provide extra rigidity and support and reduce axial play.
The TA series lead screw tables and ball screw tables offer a straight-line accuracy of less than 2 microns and repeatability of less than 1 micron Photoelectric or proximity position sensors are available. An anti-dust containment cover protects moving components. Load capacities range from 150 newtons to 900 newtons.

For any special design considerations please contact us directly to discuss your linear motion needs. The TA series motor driven position tables are manufactured in the United States and can be easily modified for your specific needs. Please contact us to discuss your application.
Other industry terms include linear actuators, ball screw actuators, ball screw stages, lead screw stages, motorized positioning tables, linear positioning systems and more generally as linear bearings, linear slides, linear motion slides, linear motion tables, or simply motion slides.

Compact design provides smallest possible footprint
Available with ball and lead screw technology
Standard motor mounts and couplings are provided at no additional charge
Manufactured from corrosion resistant aluminum and stainless steel materials
Covers, limit switches and other options available