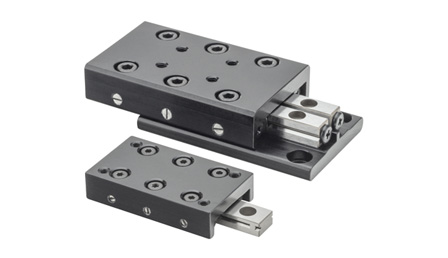 Heavy Duty Crossed Roller Tables & Low Profile Tables
Tusk Direct crossed roller tables offer high accuracy along with high load carrying capabilities. These crossed roller tables are offered in both lightweight aluminum and steel construction offering you more choices for you design application. Accuracies range from 0.0001" per inch of travel straight line accuracy on our aluminum tables to 0.00008" of parallelism on our steel crossed roller tables and provide exceptional load carrying capabilities. Our aluminum crossed roller tables are available with both inch and metric mounting holes and are also available with corrosion resistant internal components. For vertical applications or applications involving high acceleration or deceleration forces you may want to consider our Anti-Creep (AC) crossed roller tables. The rail and roller cage design eliminates roller cage migration or slippage in high speed and vertical applications. For any special design considerations please contact us directly to discuss your linear motion needs. Our crossed roller tables and low profile tables can be easily modified for your specific needs.
Additional industry terms include crossed roller slides, crossed roller tables, roller tables, cross roller bearings, linear bearings, roller slides, and more generally as linear slides, precision slides, linear motion slides or motion slides.

High accuracy
Crossed roller design offers high load carrying capabilities
Lightweight
Factory preloaded and ready for installation right out of the box
Corrosion resistant and Anti-Creep technology available on our aluminum tables